Africa: One Man's Journey
A Safari Memoir
Follow the author as he prepares for his 'trip of a lifetime' to view and photograph the panoply of African animals and birds and the Great Migration of tens of thousands of wildebeest. Accompany him to three of Tanzania's National Parks-Tarangire, Ngorongoro, and the great Serengeti-and view the wildlife seen up close and personal. Learn little known facts and join a small group of strangers as they come together with a common interest in the wildlife of Africa. The book contains nearly 500 photographs.
If you have questions about this book or require quotes for multiple copy shipping or international sales, please call 303/674-5521.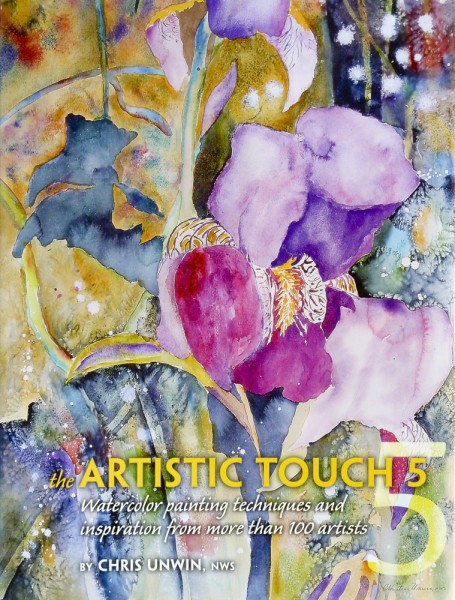 Artistic Touch 5 By Chris Unwin
This stylish compendium of American art by Chris Unwin NWS, 2012, presents a curated collection of art pieces by more than 100 artists, some well known others less so, and runs to 152 pages with 132 illustrations. I was fortunate to have two of my watercolors included (see below).
Learn by examining the techniques and reviewing the comments of the artists as they explain what inspired them to create the images or how they achieved the end result. Published by North Light Books, only a few remain at this 70% off offer of $10 plus $4.99 shipping (regular retail is $35!).

Prints of my image shown inside the book, Echoes of Grandeur (left), may be purchased from the Watercolor gallery section of this website.
If you have questions about this book or require quotes for multiple copy shipping or international sales, please call 303/674-5521.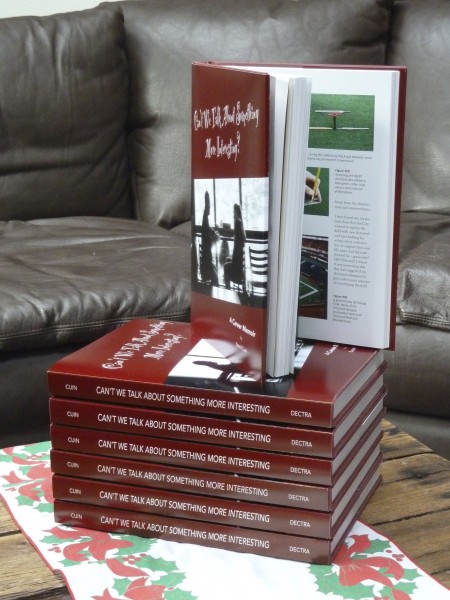 Can't We Talk About Something More Interesting?
A Career Memoir
A personal, unpublished memoir. 238 pages, over 500 illustrations. Hardcover.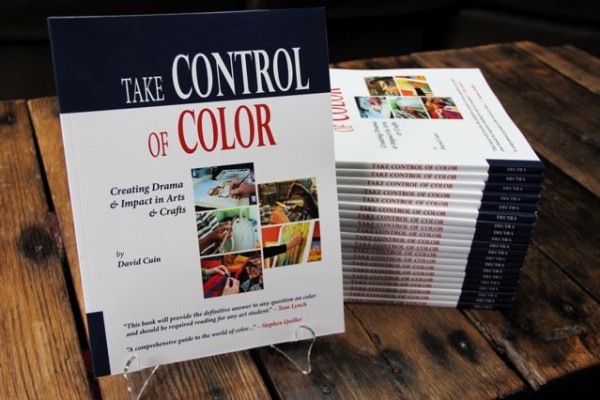 "This book is fantastic! As a former artist finding her way back into the art world, this book excited me. It explained how color can create intense drama, and then how to make this happen in whatever art you pursue. I like how Mr. Cuin doesn't just relate it to painting, but to knitting and even room design. This is a marvelous book to help even established artists look at their art from a new perspective. I highly recommend this book to all who have a delicious imagination." Lia Christians

"...easy to understand explanations of the important considerations regarding decisions about color. The photos, charts and examples highlight his expertise on a subject of valuable interest to any artist. This beautiful publication truly qualifies as required textbook material for Art 101." Christine Grininger

"Congratulations on your new publication. ... We are excited to add your book to the many products at D&L Art Glass Supply." Leslie Silverman, Owner & CEO.
Take Control Of Color by David Cuin
Creating Drama & Impact in Arts & Crafts
The book is currently out of print, but used copies may be available on Amazon or ABE Books.

Choosing color can be a big problem for artists and craftspeople that want their work to stand out from the crowd and draw in new viewers and clients. David Cuin's new book TAKE CONTROL OF COLOR solves the problem. Henri Matisse said: "To put order into color relationships is to put order into your ideas." This book will help both artists and artisans to do that. Expert use of color takes the ordinary and makes it extraordinary and that is what this book makes possible.

Here's what top artists are saying about the book:

Tom Lynch, host of several PBS TV art series and author of seven books on painting:

"This book will provide the definitive answer to any question on color and should be required reading for any art student."

Stephen Quiller, nationally recognized artist and author of seven books, two on color:

"A comprehensive guide to the world of color, from color theory to design, providing food for thought for all fine artists and artisans. An important read."

TAKE CONTROL OF COLOR brings together in one place all the mainstream, color-related information that artists and artisans alike need to know to use color effectively to build the drama in their work. It reveals how we see color and the emotional effects it can have on us. The manifold uses of traditional color 'theory' are explained in full and illustrated with many examples from arts and crafts. Readers learn what colors to use, how to use them and where to put them. Vincent van Gogh said: "A good understanding of color is worth more than 70 shades of paint." This book costs a lot less than 70 shades of paint!

Some comments from buyers:

"I highly recommend this book to my students, fellow artists or anyone interested in a better understanding of color. Marjie Eakin-Petty, pastel artist and instructor.

"I love the way words and art are joined in David Cuin's Take Control of Color. Whether you're an artist, teacher of art, student of art, or just plain lover of art, this book brings everything together in just the right way. It's a pleasure to turn its pages and see what each has to offer." Helene Grande.

"This will be a valuable resource for many people. I particularly value the Appendices for painters." Gia Hamilton.

"At first I thought the book would be out of my realm of understanding as a non-artist, but it is not only readable, but enjoyable!" Marcie Dahlen.

"Anyone with any use of color in their life MUST get this book." Anne Hopper Vickstrom
The book, with 108 pages and 143 illustrations is available on this site for $24.95 plus $3.99 shipping by clicking the 'Buy' button (have your credit card ready). It is also available on www.Amazon.com and from Hearthfire Books at 303/670-4549.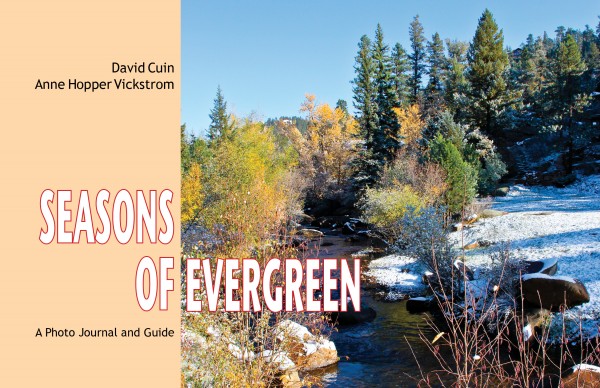 "A lovely little book packed with 'true Evergreen' is a welcome addition to the existing literature about our town. Ever changing, Evergreen remains the jewel that inspired our forefathers to take root." Suzanne deDisse

"This snapshot of Evergreen is the perfect keepsake for my children and grandchildren. How fortunate we are to be surrounded daily by the wildlife and natural beauty shown so well in 'Seasons of Evergreen.'" Linda Kirkpatrick

"This little book is a handsome and practical photographic guide. A little gem worth reading and keeping." Barbara Sternberg
Seasons of Evergreen
A Photo-Journal & Guide
This book, co-authored with Anne Vickstrom, is currently out of print

This photo-journal and guide to my home town of Evergreen, Colorado, co-authored with Anne Vickstrom, illustrates life in the town through its seasons. The book contains an informative commentary with 206 photographs, including tips for living among Rocky Mountain wildlife and tidbits of town history. Acknowledged as a 'must buy' for newcomers and visitors to the area, it is also a bookshelf item for current residents or to send to relatives and friends.